Remenbering Mel Culbertson, ITEA journal 2011
Tribute: Charismatic Tuba Professor, Maestro Mel Culbertson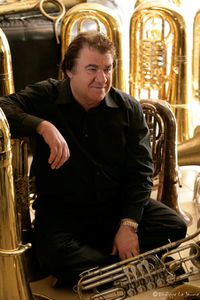 "He passed away."
July 23rd, 2011. Suddenly we received the shocking, deeply sad news that
Mel had passed away. My teacher, Mel Culbertson, one of the greatest Tuba
players in the world, was only 65 years old.
He taught at the National Superior Conservatory in Lyon, France just before his
death. His contributions to the field of Tuba have been so significant and his
presence so essential to the tuba world in France, in Europe and beyond. He
often served as a competition jury member, professor of master classes, and
performed in a number of solo concerts. Since he used to fly around the world
so much, it would be almost impossible to keep track of his exact trajectory.
Stephane Labeyrie (Orchestre de Paris), Sergio Finca (Spanish Brass), Josef
Bazinka (Budapest Festival Philharmony), are among his students who are now
active worldwide, winning many international competitions.
This is a short profile of Maestro Mel Culbertson.
Mel became tubist of the Ventura State Symphony Orchestra at age 14. He
was the first student of Roger Bobo in Los Angeles. During the Vietnam War,
he played with the West Point Academy Band. He then studied at the Juilliard
School of Music. He also studied with Harvey Phillips and Arnold Jacobs. He
organized recitals at Carnegie Hall. Zubin Mehta offered Mel the solo tuba
position in his orchestra in Tel Aviv. However, due to the political unrest in the
Middle East, he decided to go to Europe instead.
He has held the principal tuba chair with the following Orchestras : The
Hague Symphony Orchestra, (Netherlands), France National Radio
Philharmonic, and the Bordeaux-Aquitaine National Orchestra. Many other
renowned European orchestras also invited him. Herbert von Karajan once
claimed that "Mel plays the tuba like a great flutist !"
He taught at many Universities and Conservatoires across Europe, including
the National Superior Conservatory in Lyon, the doctoral program at the Royal
Northern College of Music in Manchester, England as well as visiting professor
at the Conservatory of Perpignan, France. His method book is as of yet
unpublished but we are currently working to publish it with the help of his son
David and some of his students in France.
When Mel first arrived in Europe, he came face to face with a very
conservative musical culture. His new techniques, and his unorthodox musical
ideas were at first ridiculed. The education community didn't accept that one
could play the tuba as a solo instrument. He encountered great opposition
from the establishment, including slander and even a year-long strike by
some very jealous fellow tubists ! He quickly became an iconoclast, taking
great efforts to commission new works – in his lifetime he presented works
from over 50 composers. His latest project was a commission by Italian
composer Luigi Nono, however he passed away before the start of this work.
The critics of a half a century ago have been completely silenced by Mel's
single-minded passion for music. He left a great body of work that became
engraved in the history of our instrument.
"Bring on the praise", he said often to the students – or better yet "Everything
is possible." He always gave us a unique positive energy towards the
realization of a dream. His lessons were in a group. We went to a cafĚ for a
break, where Mel often started the 'real' lesson. One day, he began teaching
the circular breath with straws in a beer, unaware it was replaced with rum!
Of course everyone got drunk very quickly. Immediately we returned to the
Conservatory while lightheaded. "Valkyrie!" he bellowed, and we started into
orchestral excerpts. If it went well - "GOOD! Let me hear once more time, Da
Capo!!" ; if it was bad "NO! Da Capo!!" It was so on, non-stop work for
physical and mental endurance. By the end of the day, we were stone-cold
sober, and everyone was quite dizzy. However, we had a feeling of fullness,
like after a completed mission. It was very refreshing.
Mel's own origins are unclear, but he had told me many times that the
Culbertson family lineage had flowing American Indian (Cherokee) blood. Mel
certainly had the skin pigment, and his nose was a high hooked nose. I once
asked his brother Richard about this. He responded to me by winking
"probably" and soon changed the subject. In any case, Mel embraced the
Native American philosophy in his teaching. In the American Indian community,
there is a custom to "Give Away" or better yet to "Release". They don't believe
in a love of personal gain, they don't forget the spirit of cooperation and the
appreciation of the surrounding peoples. This is a true testimony to their
attitude ; in all circumstances, the American Indian always keeps a smile.
There is no doubt that Mel did this in his lessons. Like the expression "Give
Away" Mel is always sharing a smile with the people around him ; he gives
them his most precious thing – his love. It may be that he was a real American
Indian after all.
It is a rarity, but we can hear Mel performing "Solo Tuba Music" composed by
Cort Lippe on the album "Neuma New Music Series Vol. 1". Here we find his
sound and his voice on the text, transmitted with a clear sense of theatric
realism. His youthful and energetic performance can still be heard today as
fresh and untouched by the fading of time. Unfortunately, almost no other
recordings were published. Once, he confided to me, "I tried but I don't like
my recording sound - I'll never say OK." That's Mel - he never compromised.
Mel has a complete set of human anatomy books in his bookshelf. He
always encouraged me to look seriously at how the body works to increase
efficiency, and at what's required to play the tuba. He has a great collection of
historic musical instruments. Often, as he overlooked these instruments
arranged around him, he was lost deep in thought on instrument
development. I found some great old instruments - for example, he had a
relic from John Fletcher.
Mel later gained fame as a musical instrument development advisor with the
success of the B & S "Apollo" and "Neptune". However, it seems that he still
had a few loose ends – only a few months ago, he told me some amazing
ideas. As he is not here today, I will keep these ideas in my heart.
Many, many students visited his house which is always open. I guess that it
meant little privacy for his family, but they were no fences and the Culbertsons
were great hosts for young students who had an excess of energy. He bought
a house with a big yard and with a pool, because he was thinking of his
students.
I have been invited to Mel's house many times. He cared deeply for his wife
Susan who did a wonderful job juggling his scheduling and management with
her own career as a pianist. She was in charge of all that happened in that
home. Mel told me laughing happily, "I can't work without Sue. If all goes well,
maybe I will be able to relax some after retirement. Don't say a word to the
Mrs."
Last year, I was invited to Susan's birthday with my wife. Mel looked so busy
preparing the food and decorating the room, his dog Titan following him and
waving his tail happily. My wife said with a smile "Love is full here!"
Mel often bragged - "I'm a man that never sleeps." The Culbertson phone
rang yesterday from Spain, today from Britain, the day after from Russia, etc.
He did have an incredibly overcrowded schedule - sometimes pushing him to
his personal limits.
He hated to go to the hospital and he had always said, "I will fall asleep in
the garden at home ; it will be better than ending up on a hospital bed." But
he slipped away after three days in the hospital after enjoying only two
months of retirement.
He was not well known to the media because he would only pour his
passion into his work. So many people may be able to speak better about
Mel, but I wanted to use my words to introduce the international community to
the natural person that I know. We love him like a father who shows pity, like a
brother who shows praise, like a teacher who teaches honor. A charismatic
professor like Mel is rare, but his personality was very friendly – he had warm
human relations. Over the last ten years 10 years, we have spoken so many
times in restaurants or bars - I can't even remember the taste of the wine or
the great food we were eating at that time, but I will remember always just a
good moment with him.
Finally, I would like to share my personal blessing here as a tribute to the
deceased.
Mel, you always had a favorite phrase, "Everything can come true if you wish."
I was often encouraged by your voice when in hard times. You gave us many
chances, we made great efforts to fulfill what you desired. Our wishes were
answered, but Mel, was your wish answered or not?
Your work doesn't stop today ; it will continue on forever from disciple to
disciple. All your students demonstrate unanimously your talent as an
educator. You have reached the point that only the Great Masters reach - in
the future the only yardstick to evaluate you by will be your wonderful
students.
"Mel, Thank you very much for everything. Je t'aime ."
One of Mel Culbertson's students,
Atsutaro MIZUNAKA
Edited by :
Atsutaro MIZUNAKA
Principal Tuba, Orchestre National de Bordeaux-Aquitaine, France
Translated by :
Christopher NERY
Principal Bass Trombone, RTE Concert Orchestra Dublin, Ireland
Great Thanks to :
Susan & David Culbertson, Gerhard A. Meinl (President CEO of B&S Groupes), Arnaud Boukhitine (Ensemble Intercontemporain de Paris), Florian Coutet, Fabien Wallerand (Opéra de Paris), Sergio Finca (Spanish Brass), Oscar Abella (Orquesta Sinfónica de Euskadi), Ryunosuke Abe, Alisa Portellano, Richard Rimbert.